Research article
Open Access
Open Peer Review
This article has Open Peer Review reports available.
Development of the Community Midwifery Education initiative and its influence on women's health and empowerment in Afghanistan: a case study
BMC Women's Health
2014
14:111
Received: 3 February 2014
Accepted: 29 August 2014
Published: 15 September 2014
Abstract
Background
Political transition in Afghanistan enabled reconstruction of the destroyed health system. Maternal health was prioritised due to political will and historically high mortality. However, severe shortages of skilled birth attendants - particularly in rural areas - hampered safe motherhood initiatives. The Community Midwifery Education (CME) programme began training rural midwives in 2002, scaling-up nationally in 2005.
Methods
This case study analyses CME development and implementation to help determine successes and challenges. Data were collected through documentary review and key informant interviews. Content analysis was informed by Walt and Gilson's policy triangle framework.
Results
The CME programme has contributed to consistently positive indicators, including up to a 1273/100,000 reduction in maternal mortality ratios, up to a 28% increase in skilled deliveries, and a six-fold increase in qualified midwives since 2002. Begun as a small pilot, CME has gained support of international donors, the Afghan government, and civil society.
Conclusion
CME is considered by stakeholders to be a positive model for promoting women's education, employment, and health. However, its future is threatened by insecurity, corruption, lack of regulation, and funding uncertainties. Strategic planning and resource mobilisation are required for it to achieve its potential of transforming maternal healthcare in Afghanistan.
Keywords
Policy analysisMidwiferyMaternal healthAfghanistan
Background
In late 2001, Afghanistan emerged from decades of war with ruined infrastructure and a non-functioning health system [1]. Transition brought national commitment to improving Afghan lives. Crucially, this commitment was supported by the international community with a strong political imperative, technical assistance, and substantial funding [1].
Afghanistan is a traditional patriarchal society, with a restricted role for women embodied in "purdah," a pre-Islamic system prescribing female covering, restricted public movement, and sexual segregation, thus reducing women's role outside the domestic sphere. During the twentieth century, women's status gradually changed. By the 1950s, some Afghan women began to achieve university degrees and by the late 1970s, there were around 200 female doctors, engineers and health-workers, particularly in Kabul [2]. However, under the Taliban interpretation of purdah (1996–2001), women were denied education, employment, or any public role [2, 3]. An under-educated, disenfranchised female population has had serious implications for female healthcare.
Historically, Afghanistan's health system development efforts were uncoordinated and focussed on major cities, while most of the population was rural. Medical schools were opened in urban centres, but uncontrolled enrolment and insufficient teaching staff meant schools were effectively non-functioning [4]. From 1972, the Intermediate Medical Education Institute in Kabul - renamed The Institute of Health Sciences (IHS) in 2004 - began training health technicians, including midwives [5]. Restrictions on work and education during the Taliban government contributed to no government midwives being trained from 1996 to 2002 [5].
As the century began, after decades of civil conflict, Afghanistan had the poorest health indicators in the region [1]. The Taliban had little administrative capacity, putting religious leaders in charge of healthcare. Health services were underfunded, poorly equipped and staffed, and relied heavily on NGOs. Over 80% of health facilities were NGO-managed when the Taliban government ended in late 2001 [1].
A key indicator of population health, reflecting the functioning of its health system, is maternal mortality. In 2000, Afghanistan had one of the highest estimated maternal mortality ratios (MMR) in the world of 1,800 deaths per 100,000 live births [
6
]. An initial assessment in 2002 revealed that Afghanistan had only 467 birth attendants who identified themselves as having at least some formal midwifery training [
7
] for a population of around 26.8 million [
8
] and just 8% of women delivered with the assistance of a skilled birth attendant [
5
,
9
]. Health facilities remained concentrated in cities, although 75-80% of the population was rural. Figure
1
shows approximately 78% of maternal deaths were from preventable causes, including obstructed labour, haemorrhage, pregnancy-induced hypertension, and sepsis [
3
].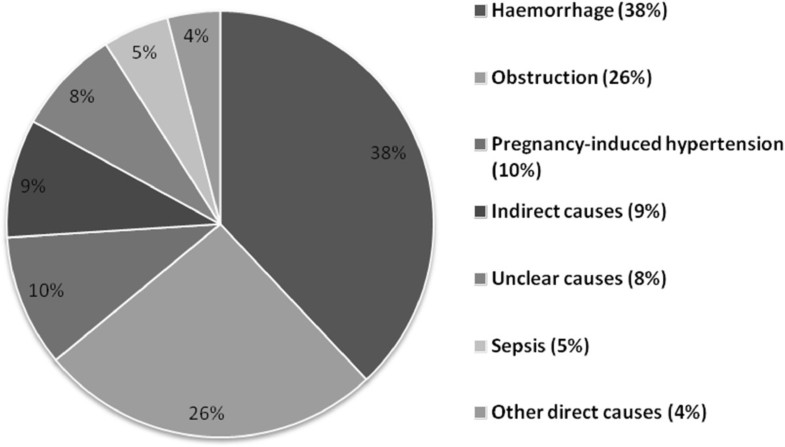 The impact of maternal mortality goes beyond a woman's death, frequently leading to higher rates of morbidity and mortality in the immediate family with the primary carer gone. One study found 74% of live newborns subsequently died after their mother died in delivery or postpartum [
3
]. Most women had no delivery care apart from unskilled traditional birth attendants (TBAs; Table
1
) and relied on traditional medicine or '
unani tibb'
[
10
]. Contraception was largely unavailable, leading to an estimated fertility rate of 6.9 births per woman [
11
].
Table 1
Birth attendance terms
| | |
| --- | --- |
| Midwife | A person who has been regularly admitted to a midwifery educational programme, has successfully completed the prescribed course of studies in midwifery and has acquired the requisite qualifications to be registered and/or legally licensed to practice midwifery (ICM [12]). In Afghanistan, this is a qualification through either the Institute of Health Sciences or the Community Midwifery Education programme. |
| Skilled birth attendant | An accredited health professional (e.g. midwife, nurse, doctor) who has been educated and trained to proficiency in the skills needed to manage normal uncomplicated pregnancies, childbirth and the immediate postnatal period, and in the identification, management and referral of complications in women and newborns (WHO, ICM, FIGO [13]). |
| Traditional birth attendant | A person who assists the mother during childbirth and initially acquired her skills by delivering babies herself or through apprenticeship to other traditional attendants (WHO, ICM, FIGO [13]). |
Maternal health experts agree that a key factor in maternal deaths is delivery without assistance from a skilled birth attendant (SBA; Table 1) [14–16]. By 2001, Afghanistan desperately needed skilled female health workers. Particularly, it needed a large number of midwives, trained to international standards and with skills to address the most common birth complications faced by Afghan women. Furthermore, midwives needed to be deployable in rural and often very remote areas where mortality rates were worst. Finally, midwives had to be accepted by communities if they were to change traditional behaviours and improve health outcomes.
Due to these challenges, a new training programme for midwives was initiated and piloted (2002–2004) in eastern Afghanistan and scaled-up nationally in 2005. This initiative became the Community Midwifery Education (CME) programme. Its decentralised implementation made it possible for women to receive training near their own communities and subsequently return to them as trained midwives.
Analysis of policy decisions is important in Afghanistan, as there is intense political and financial pressure to see development initiatives succeed. Afghanistan is the largest recipient of international aid by some margin, and in the context of a global economic downturn, investments must be justified [17]. The aim of this study was to assess how the CME programme developed, implemented, and accepted in Afghanistan. It explores its potential impact on maternal health and more broadly as an example of female empowerment.
Methods
Policy analysis was informed by a review of published and grey literature triangulated with in-depth interviews with purposively-selected informants. Table 1 provides definitions used for midwife, skilled birth attendant, and traditional birth attendant.
Data collection
Relevant policy documents, institutional reports, guidelines, and media articles were identified through Google and Google Scholar searches (e.g. using "Afghanistan maternal health", "Afghanistan health system", "Afghan midwives", "Community Midwifery Education Afghanistan" as search terms); hand searches of WHO, USAID, Jhpiego, UNICEF, and HealthNet-TPO websites; and advice from informants. Published literature was identified from PubMed and Embase database searches, using "Afghanistan maternal health", "Maternal mortality", "Afghanistan health system", "Afghan midwives", "Community Midwifery Education Afghanistan" and combinations of these search terms.
In-depth individual telephone interviews were planned with 5–10 key informants currently or previously affiliated with USAID, WHO, Afghan Midwifery Association (AMA), Jhpiego, or Kabul Maternity Hospital. Potential informants were familiar with CME, either through participating in its development, training or employing CME midwives, or work on maternal health in Afghanistan. Informants were purposively sampled and identified through review of key policy documents and questioning other informants. A topic guide included standard questions, while others were adapted to the status and involvement of each informant. Interviews lasted 1–2 hours, were recorded and transcribed or contemporaneous notes verified with informants. Follow-up email communication clarified statements as necessary.
Analysis
Policy analysis covers the ten-year period of health reforms by Afghan government and international partners since the end of Taliban Emirate in 2001. Sabatier argued "'a decade or more' is the minimum duration of most policy cycles…" [18], making this the earliest opportunity to assess CME development and implementation. Qualitative content analysis was used to derive thematic categories from documents and transcripts [19]. Interpretation was supported by Walt and Gilson's policy framework [20], a descriptive triangle connecting context, content, and process with actors (i.e. stakeholders) central. Authors used these interacting elements, developed specifically for qualitative health policy analysis in low-income settings, to frame CME development and implementation.
Ethics
All informants received information sheets and consent forms before interviews, with the option to withdraw anytime. Informants were assigned a functional description (e.g. "international technical adviser") for anonymity. The Research Ethics Committee of the London School of Hygiene & Tropical Medicine in the United Kingdom provided ethics approval (reference number 5448).
Results
Document analysis was supported by primary data from eight key informant interviews (Table
2
). Results are framed under sub-headings of context, process, content, and emergent themes (i.e. targets, internalisation, professionalisation, sustainability), with relevant institutional actors discussed under each.
Table 2
Key informant characteristics
| Code | Title | Expertise/Experience |
| --- | --- | --- |
| KI1 | International technical advisor | Midwifery expert involved in designing and implementing the CME pilot. |
| KI2 | International public health expert | Scientist who has conducted maternal health research in Afghanistan. |
| KI3 | Senior Afghan midwifery expert | Senior-level midwife, active in initiation of the AMA. |
| KI4 | Kabul-based midwifery consultant | International midwifery consultant at a Kabul hospital |
| KI5 | WHO Medical Officer | Formerly with HNTPO and involved in CME. |
| KI6 | Afghan midwifery trainer | Midwifery expert involved in designing and implementing the CME programme |
| KI7 | Bamyan midwifery trainer | Midwifery trainer in Bamyan province and active in the AMA |
| KI8 | MCH coordinator | With HNTPO during initial discussions about auxiliary midwife training. |
| KI9 | AMA representative (non-respondent) | |
| KI10 | ICM representative (non-respondent) | |
Discussion
Maternal health indicators have improved since 2002 (Figure 2). However, even choosing the most favourable statistics, MMR remains high at 327 and SBA deliveries low at 34%. With a 2012 fertility rate of 6.3 and contraception used by 19% of reproductive age women [37, 52], increased family planning coverage is an important means of improving maternal health to which community midwives could contribute [53].
Ascertaining maternal mortality is difficult without civil registration of births and deaths, large areas of the country inaccessible, shortages of medical personnel to verify causes of death, an under-educated population, sensitivities associated with maternal death, and political pressures to present favourable results. Despite unreliable health indicators, evidence shows the CME programme and community midwives are widely accepted as an integral part of the Afghan health system by government, international partners, and communities. CME has empowered women by:
educating them to play a crucial role in society and the workforce;

employing women, who gain economic independence and contribute to family incomes;

encouraging female education by showing it can lead to economic opportunities;

prioritising women's health needs in communities.
As the voice of Afghanistan's midwives, the AMA can strengthen empowerment initiatives - particularly if given a more public role (e.g. in the National Health Strategy, in health sector training). AMA initiatives provide a model for ambitious Afghan women in education, business and other sectors, while long-term follow-up of CME graduates can help the AMA ascertain deployment, career paths, and refresher training needs.
Security issues continue to challenge deployment, demand, and data collection. Lower deployment in insecure provinces means inequitable maternal healthcare provision, weakened data reliability, and potentially underestimated mortality. MoPH could make deployment safer and more attractive (e.g. through enhanced salaries, a higher ratio of midwives to population in insecure areas, negotiated protection with local leaders).
While coverage is still the primary objective, as midwife numbers increase greater emphasis should be placed on quality. While strong regulation is needed to support training quality, most informants considered it premature to transfer responsibility entirely to Afghan bodies, suggesting sharing it between national and international experts. A gradual reduction in midwifery school numbers could help ensure a high standard of teaching and potentially lead to the ICM's aim of midwifery degree courses [3]. There is pressure on the Afghan government to take over health system funding and MoPH is encouraging private sector involvement [54]. Although midwifery services through the BPHS are designed to be free for users, there are indications that fees are still charged in some areas [23, 54]. Service-related midwifery costs could increase inequities. Healthcare usage is already highest among wealthier urban women and travel and other costs have been cited as a reason not to use health facilities [23, 32, 35].
Document review and interviews were limited by language, access, and time. Several purposively selected informants were key actors in CME development and strongly supportive of the initiative. A larger sample could have provided greater diversity of perspectives. However, interviews were intended for data triangulation and comments were not found to differ from documentary evidence.
Lessons from the CME programme may be applicable elsewhere, though care should be taken to adapt these to local contexts [40].
Conclusions
CME began as an NGO pilot initiative and developed into an internationally-recognised programme. The programme is considered a success by stakeholders, with one informant attributing this to "creative, energetic people from the beginning". Many factors contributed, including NGOs on the ground, readily accessible funding and international technical expertise, regime change enabling early policy debate, establishment of regulatory and accreditation bodies, and crucially, community midwives ready to become community role models.
CME is already being used as a model for other countries (e.g. Pakistan, Ethiopia, Laos). However, the initiative is only a decade old and still potentially fragile. It has benefitted from intensive financial and technical inputs unsustainable in the long term. It was developed in a challenging environment including cultural norms that may take generations to change. There are major threats, primarily security and financing - with related risks of corruption and weak regulation affecting quality. Sustainability depends on the Afghan government internalising the programme (e.g. by including CME-trained midwives in the civil service).
CME has surpassed its original goal, is concerned with both female healthcare and female education, and has had a wider social influence than was anticipated. MDG5 may not be reached in 2015, as improvements are inconsistent throughout the country. However, it is clear that there are improvements. MMR reductions are likely due to a range of initiatives, including CME. CME has improved maternal care and provides an example of female empowerment. Midwives are respected members of the working population. It is vital that this role is nurtured, no less than their role in reducing the preventable deaths of so many Afghan women every year. This is clearly a long-term process.
Declarations
Acknowledgements
Authors thank participants for their time and the RAISE initiative for funding research. RAISE was not involved in design, analysis, or publication of this manuscript.
Authors' Affiliations
(1)
Faculty of Public Health and Policy, London School of Hygiene and Tropical Medicine (LSHTM), London, UK
(2)
Rumi Consultancy, Kabul, Afghanistan
(3)
Royal Tropical Institute (KIT), Amsterdam, The Netherlands
(4)
Kabul Medical University, Kabul, Afghanistan
Copyright
© Speakman et al.; licensee BioMed Central Ltd. 2014
This article is published under license to BioMed Central Ltd. This is an Open Access article distributed under the terms of the Creative Commons Attribution License (http://creativecommons.org/licenses/by/4.0), which permits unrestricted use, distribution, and reproduction in any medium, provided the original work is properly credited. The Creative Commons Public Domain Dedication waiver (http://creativecommons.org/publicdomain/zero/1.0/) applies to the data made available in this article, unless otherwise stated.